Does Your Baby Hate Tummy Time?
Healthy infants, born at term, who spent time on their tummy when awake, achieved developmental milestones significantly earlier than those who did not (pathways.org).

Tummy Time is designed to strengthen your baby's neck and upper-body muscles and avoid the dreaded flathead look. But what if my baby cries during Tummy Time? This is very common.
No wonder our babies cry: It's no fun being face-planted on the floor before they have much neck muscle strength. There's nothing magical about being FACE FIRST ON THE FLOOR!
So... give them a stimulating activity to peek their interest and voila' - watch the tears of worry and anxiety evaporate!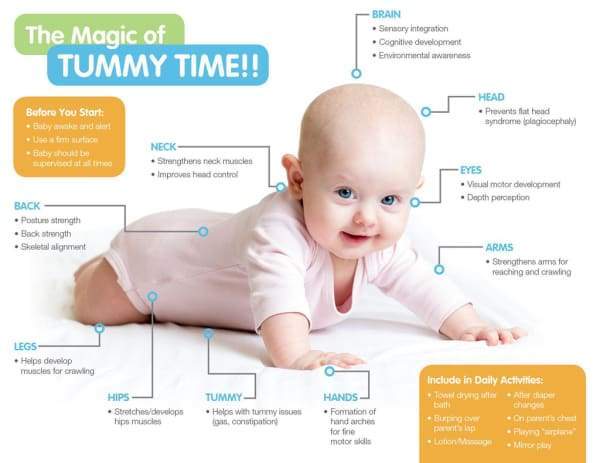 Tummy time helps your Infant build strength in their back, legs, arms and neck, preparing him/her to be ready to explore the world on their own. Tummy time also encourages your little one to practice reaching and pivoting - skills that are often precursors to crawling.
Dangers Of Avoiding Tummy Time
Research shows that a lack of tummy time can delay your baby from meeting physical development milestones like lifting her head, rolling over, sitting up, and more. It's amazing to see what effect 15-30 minutes a day can do to a young ones development.

Babies need stimulation, plain and simple. The Tummy Time Mat™ features visual colors & movement, which create fun and excitement for your baby. Water fill is an essential tool for developing solid head, neck and shoulder muscles as well as honing hand-eye coordination, fine motor and social skills. It is a sensory delight that enhances brain development.

Liquid error: product form must be given a product
Finally Tummy Time Without Screaming!
"Finally, tummy time without screaming.Our 3 month old is the calmest baby ever... until tummy time. She becomes a rabid werewolf. She screams, howls, and acts like you are forcing her to do something awful. This mat has changed that. At 3 months we are able to get her to have tummy time in 15-20 minute stints now. She stares at the mat, pushes on it, and when she spits up on it the thing is easy to wipe up :)
Filling it with water for the first time is a bit messy, because when you push down the plug water comes out, but after it's closed it doesn't leak. We have been using it for a week without issues, and I'm so happy our daughter doesn't fight tummy time anymore."

- Samantha Golden, Happy Tummy Time Mat™ Customer
"My mom instincts kept telling me I'm doing something terrible… feel guilty that somehow his inability to tolerate tummy time is my fault.

I ran across the Tummy Time Mat™ on Facebook ad and decided to give it a shot. My 4 month old son loved it. If you look at the picture I just uploaded he is having fun and he is trying to eat the fish hahahaha."

- Becky Fuller, Happy Tummy Time Mat™ Customer

Today's baby's are tomorrow's future

Pediatricians around the world claim Tummy TIme is essential for a baby's development. But not all babies enjoy Tummy Time. See why thousands of mom's around the world are raving about the Tummy Time Mat™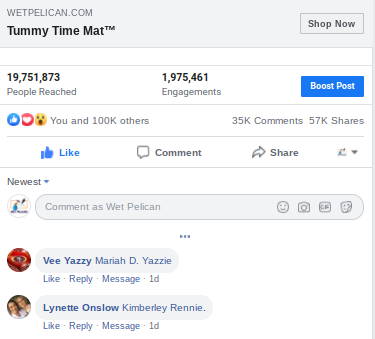 Not to mention the Tummy Time Mat™ has gone viral, reaching millions and millions of people around the world.

Our number one priority is to provide top-quality products, paired with top-quality service. And we can't be more excited that we are able to provide important development to babies around the world just like yours.
As we mentioned before: It's no fun being face-planted on the floor before they have much neck muscle strength.
So what are you waiting for? Give your baby one of the best Tummy Time tools in the world and watch them perk up!